Pastor Phyllis Lee has been with her church for over 50 years. She became the Pastor of Heavenly Vision Apostolic Church after her husband, the former pastor, died 15 years ago. The small church is home to an even smaller congregation, with about five to seven weekly regulars. This tight knit community acts more like a family, keeping in touch everyday and being there for all of ups and downs of life.
Nyasia Harrison's socks and shoes. Nyasia is the granddaughter to sister Brenda. She doesn't go to church every Sunday but when she does she wears her best shoes.
Pastor Lee purchased the current property on Rose Ave approximately 40 years ago with her small savings from teaching. She never sought any payment from the congregation or any assistance in buying the foreclosed property. Since that initial purchase, the congregation, and Pastor Lee, had to put a lot of money into maintaining the aging building. This year, the treasury was drained to replace a collapsed roof and water damage.
In early October, Pastor Lee suffered a silent heart attack during Sunday Mass. Lingering pain from the heart attack brought her back into the hospital where her doctor determined that it was time to get a pacemaker. She had surgery early Sunday morning, making this the second Sunday she missed mass.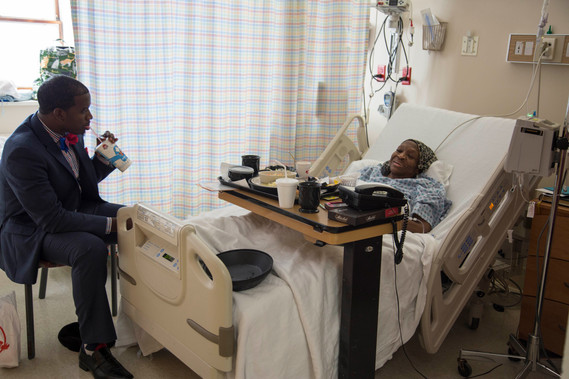 Reggie Williams, the associate pastor and Pastor Lee's grandson, visits her after church the Sunday of Pastor Lee's pacemaker surgery. In her absence, Reggie leads the congregation and when she is healthy again, he will continue training under his grandmother to learn how to become a pastor.
During the week, Pastor Lee works for her own small business, providing at home care for the elderly. After retiring from teaching, Pastor Lee found her second career was helping others to age with grace and dignity. She currently has five elders in her care and a staff of 7 full time support. Pastor Lee is the only one to take care of Ms. Hazel. At 92 years old, Ms. Hazel is able to do most things on her own but requires some help with housework. Pastor Lee has been caring for Ms. Hazel for four years now.
Pastor Lee is at her best in church. Even while she was recovering, she still stood and danced and gave testimony harder than anyone else. The congregation was equally as happy to see the Pastor back, singing gospel after gospel and thanking God for her speedy recovery.